Ration Support provided to 314 families and 283 Sewing Machines disbursed during the F.Y. 2017-18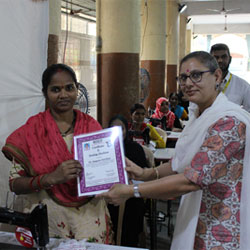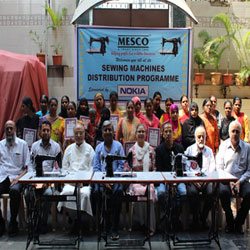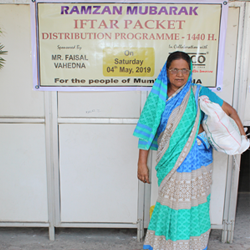 Sewing Machine
Distribution
One of the income sources for Widows, Deserted and Poor women is to stitch clothes and earn money for their family. MESCO has been distributing Sewing Machines to widows, divorced and destitute women for their livelihood. MESCO provides sewing machine after considering their financial condition (based on a home investigation), followed by a trade test (to access cutting and stitching) and interview for final decision.
The basic need of a human being is food. The scheme provides ration to the most financially vulnerable section in society until such time that they are able to food for themselves. Food items covered are Rice, Wheat, Sugar, Tur Dal, Masoor Dal, Oil, Tea Powder and Chana. The families are categorized as A, B, C, D and E, based on their family size and are provided with ration support proportionate qualities to suffice their basic nutrition needs.
Natural disasters are events that are beyond the control of human beings. They increase the vulnerabilities and risk of those that get affected. MESCO extends support to those who are affected by such disasters.